Dos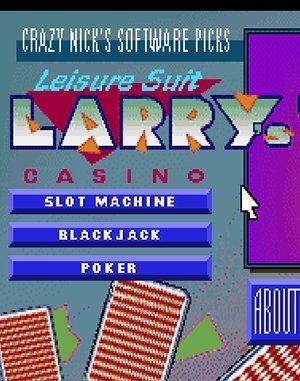 Crazy Nick's Pick: Leisure Suit Larry's Casino was a mini game included with the Leisure Suit Larry Collector's Edition / Leisure Suit Larry's Greatest Hits and Misses, Leisure Suit Larry Collection Series and Leisure Suit Larry Ultimate Pleasure Pack collections.
Leisure Suit Larry's Casino is one of the five Nick's Picks budget games by Sierra. It consists of three casino mini-games: Slot machine, Black Jack and Poker. You start with 100.00 Larry Dollars to gamble with during the games. In the case you loose everything a loan is possible, You play with the hand of Larry and operate the buttons. During the mini-games you get more information about the bets / odds in a text window. Play Leisure Suit Larry's Casino online!
Recommended DOS games
Try to play some DOS games from recommended games section.